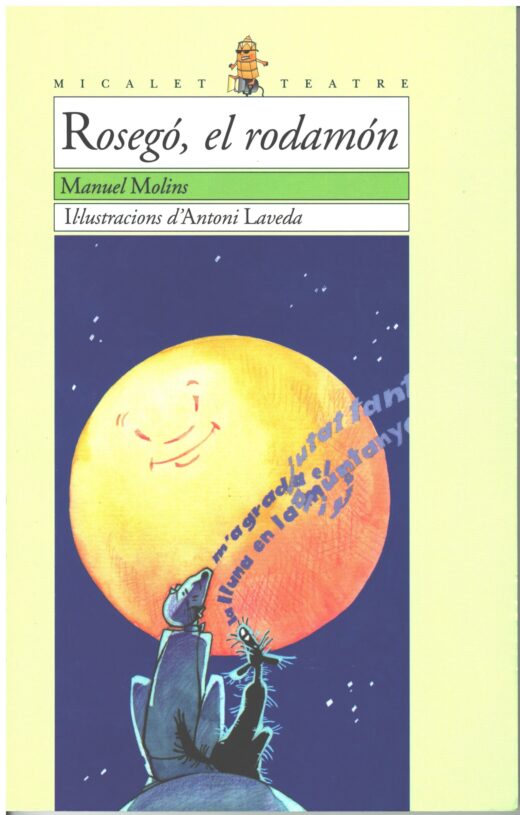 Printed
49 pages
Characters
Lluc Recatan, Amics de Rosegó, Rosegó
Note
This is one of the few plays by Manuel Molins aimed at young audiences. The author wrote it leaving open the possibility of having it performed either by actors or by puppets. The play was created by the Valencian puppeteer group Lluerna Teatre and later performed in Barcelona by the actors of Jove Teatre Regina.
Plot summary
Learning mutual respect
A stray dog, Rosegó, is rescue by Lluc who has just lost his own dog. The master tries to train Rosegó, to make him play football and to teach him some circus tricks, but without bothering about what the dog really wants to do. The dog, on his side, tries to teach Lluc to bark and raise his paw, but he refuses. Disappointed, Rosegó leaves the house because his freedom is not respected. Lluc and Rosegó eventually regret their decision, reconcile and decide to live together in mutual respect. A jazz band of dogs, friends of Rosegó, comes to sing a song.
First performance
Alcoy
, Spain
, 12 June 2008 -
Mostra de Teatre d'Alcoi. Production: Lluerna Teatre group (Stage direction: Rosa María Navarro i Calvo. Set design: Josep Miquel Beltrán, Maria Boronat. Lighting: Joan Martí i Campanya. Performers: Amador Artiga, Josep Miquel Beltrán, Olmo Hidalgo).
Publications and translations
Publication
Manuel Molins. Rosegó, el rodamón. Alzira: Bromera, Micalet Teatre, 2001.
Literary tones
Didactic, Comical, Dramatic